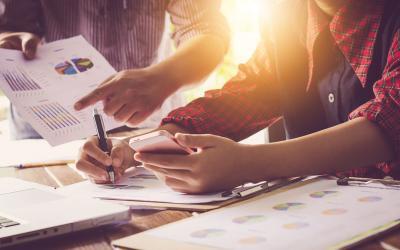 Here are 4 ways to market your small business in 2019. Take a look at our top recommendations as you prepare your budgets for another year.
read more
About Us
We are a small energetic team of passionate designers & smart marketers helping businesses of all sizes grow and attract their target audience with a full suite of advertising & branding solutions.
Key Services
Graphic Design
Web Design
Advertising
Print Design
Social Media
Logo Design
Lead Generation
SEO
Branding
Photography
Copywriting

Our design experts will craft a stunning website that converts visitors into customers.
GET STARTED ➜

Our experienced marketing team will work diligently to promote your website and business.
GET STARTED ➜

We offer premium hosting and care plans to keep your website running at peak performance.
GET STARTED ➜
Our Streamlined Process & Workflow
We sit down with our clients to discuss their needs and visions so we can deliver the absolute best marketing solutions to bring effective growth to your business or organization.



Let's Work Together
Let us know and we'll help you with your marketing needs. We're available now and will get back to you promptly with answers to any questions or a quote for your project.
Say no to the status quo
 There will always be obstacles, there will always be competition. You can't follow the crowd to realize your dreams. Sometimes you've got to take the path less traveled to find what you need.